THE BEST SPORTFISHING YACHT IN PLAYA DEL CARMEN YACHT RENTALS
     $350 USD / Hour
Brand, Uniesse sport fishing
Size, 51  Feet
Cabins, 3
Restroom, 2
UNIESSE 51
If you like fishing and there is budget, we better than this Uniesse 51 ', undoubtedly the best luxury fishing yacht in Cancun that was initially bought as luxury (and it remains such) and we went putting it all The professional team for a comfortable fishing, with all the possible luxuries, to make of a luxury fishing yacht, a luxurious fishing yacht, Cancun.
The yacht has 3 cabins, full kitchen inside and half kitchen outside, charcoal grill, inside and outside, air conditioning in all rooms, 2 bathrooms, TV, stereo with plug for iPods, USB and CDs, 2 Giant coolers and professional fishing equipment (out, down riggers, chair and reeds).
There is fishing in Cancun of white marlin, blue marlin, golden, tuna, bonito, peto, wahoo, sierra, barracuda, grouper, rainbow, marlin, swordfish (deep), horse mackerel, African pampano and more, so come to Cancun and fish with us.
LUXURIOUS BOAT RENTALS FOR FISHING CHARTER IN CANCUN
If you are crude, there are 3 rooms so that you go to lie comfortably, to have a better time. If they are pure men, they can make it a bachelor party, inviting girls to accompany them to their fishing. Returning to fish, you can go to Playa Norte in Isla Mujeres to prepare your fish, with some beers, well cooked. This luxury yacht in Cancun has discounts in restaurants in Isla Mujeres, to arrive and park directly the yacht in its dock, to get off and ask for table, knob, maricos and the best of the island, tikinchik, recommended. There are several restaurants such as Chuk kay, varadero, tirburones, but in peronal the best is chukkay, delicious and with a giant palapota, there is also live music sometimes.
So you know, if you are looking for a fishing yacht in Cancun, this luxurious yacht of fishing in Cancun will not disappoint you. Boats for luxury fishing in Cancun there are not many, most are viking yachts, hateras or defend, cheap, fishing the same, but then it is like going in limousine or tsuru.
PRICES
4 Hours: $1,350 USD
6 Hours: $1,700 USD
8 Hours: $1,960 USD
Max. Capacity: 18 Pax + Crew
Sportfishing Charter Includes:
Captain + Crew
Bait
Complete fishing equipment
Sodas
Waters
Beers
Snacks
Ice
Ceviche: $200 Pesos per person, includes tostadas and crackers.
The absolutly best sportfishing yacht in cancún.
PRIVATE CHARTER INCLUDES.
12 Beers
12 Waters
12 Sodas
Ice
Captain + Crew
Boat fuel (between Cancun and Isla Mujeres)
WHAT TO BRING TO A PRIVATE YACHT CHARTER.
Sunscreen
Towel
Extra Dry Clothes
Swim Wear
Hat
Sunglasses
Cash (For Tips and Souvenirs)
FISHING CALENDAR CANCUN.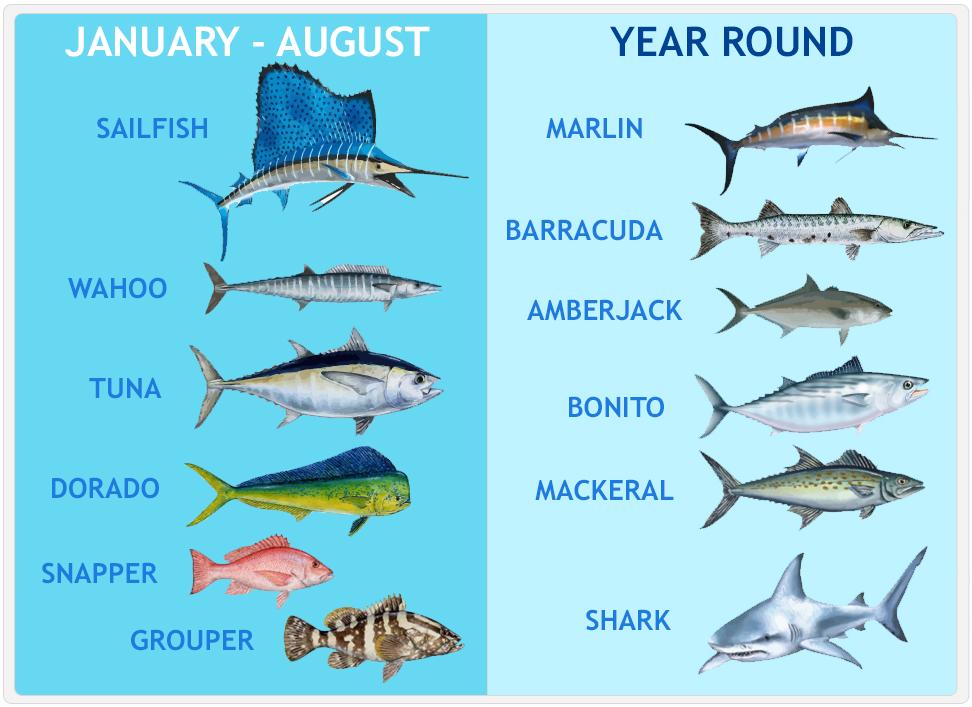 MORE SERVICES FOR YOU.