Overnight Boat Rental in Cancun and Riviera Maya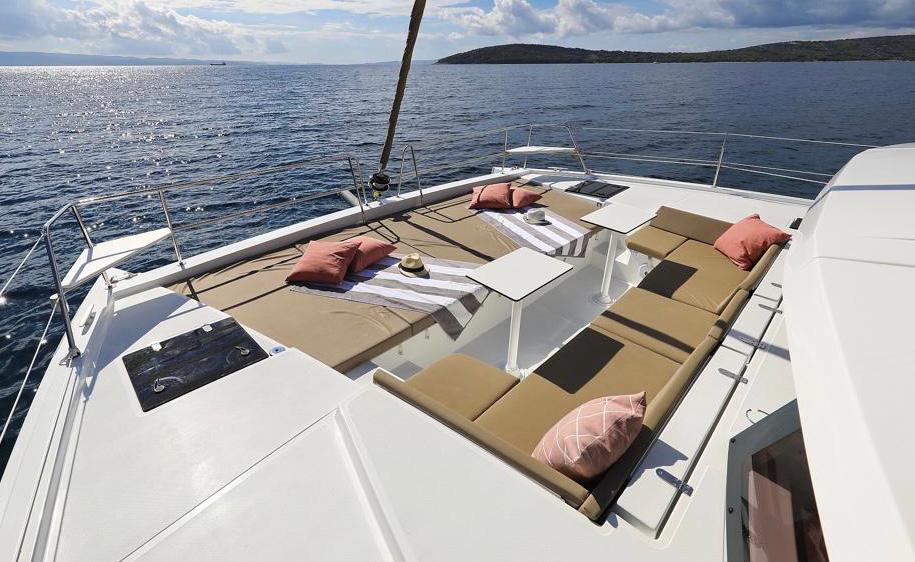 Welcome to Boat Rentals for Overnight in Cancun and Riviera Maya. If what you want is to go out on a boat in the Cancun area and its surroundings, the best way is to sleep on board a yacht or catamaran. If it is luxury, better. The cheaper the less luxurious and vice versa.
A 55-foot Sea Ray would cost $5,250 USD for every 24 hours. It's got 3 complete cabins, all very comfortable, and the yacht arrives quickly (4-6 hours) to the ports if they go fast. But it is a good idea to go slowly to see hotels and points of interest on the Riviera Maya. From Cancun to the island Isla Mujeres is one hour. From the island to Puerto Morelos it is 2.5 hours. Same from Puerto Morelos to Cozumel or Puerto Aventuras. But by cruising slow you can do about 6-7 hours.
Liveaboard smaller vessels
A smaller yacht would be a 41-foot Sea Ray with one and a half cabins. Two adults and two children fit comfortably, but if you are 4 adults you can take turns staying in the good cabin, since the half cabin is much less comfortable. It's fast in terms of getting to a touristic port easily, just like the 55ft. The night costs $2,500 USD
A luxury catamaran is, to me, the best option. If there are 6 to 8 people, all would be sleeping on a comfortable and luxurious bed. It costs $3000 USD per night:
If you want a cheap option, it could be a 42-foot sailboat. Good sailboat, good model year, but because it is a sailboat you do 7-12 hours to each destination, or more, depending on the wind. But it is still cheaper compared to the yacht, as it starts at $3000 USD for 48 hours: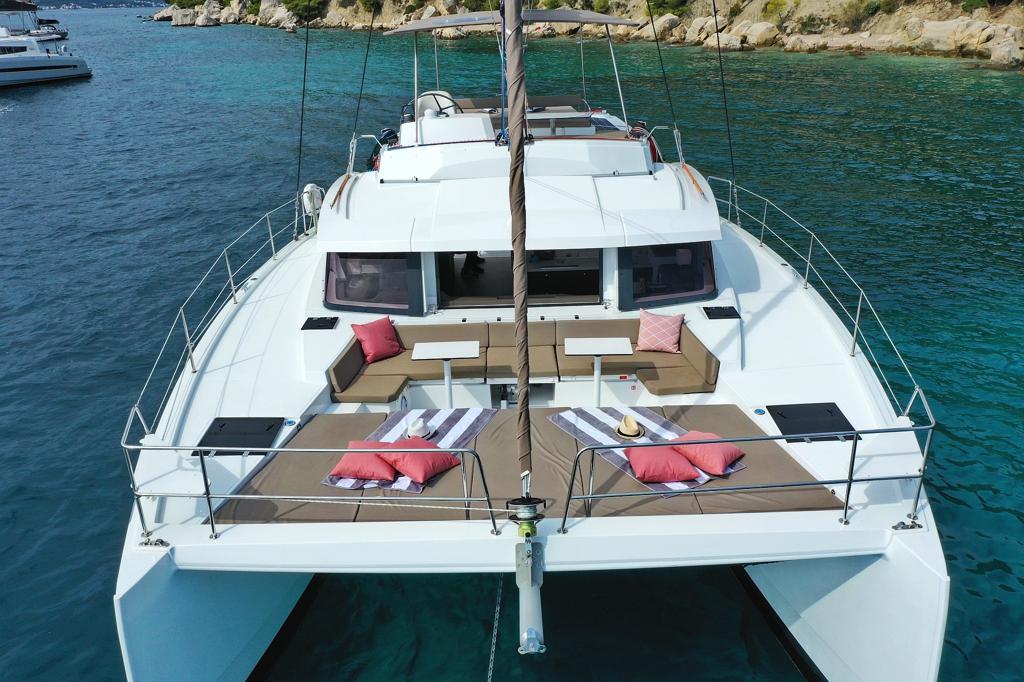 Where to go with Bareboat Rentals Cancun?
You decide where you want to go, but we give you the best recommendations. For example, if it is 3 nights on a yacht (I do not say sailboat because those are slower from one port to another) it could be a night in Isla Mujeres. Another night in Puerto Aventuras and the last night at Cozumel.
From Cancun to Isla Mujeres is an hour's drive. From Isla Mujeres to Puerto Morelos it is 3 hours (it can be more or less, depending on the speed and/or the ride on the coast that you want to take on the way. Same to Cozumel departing from Puerto Morelos).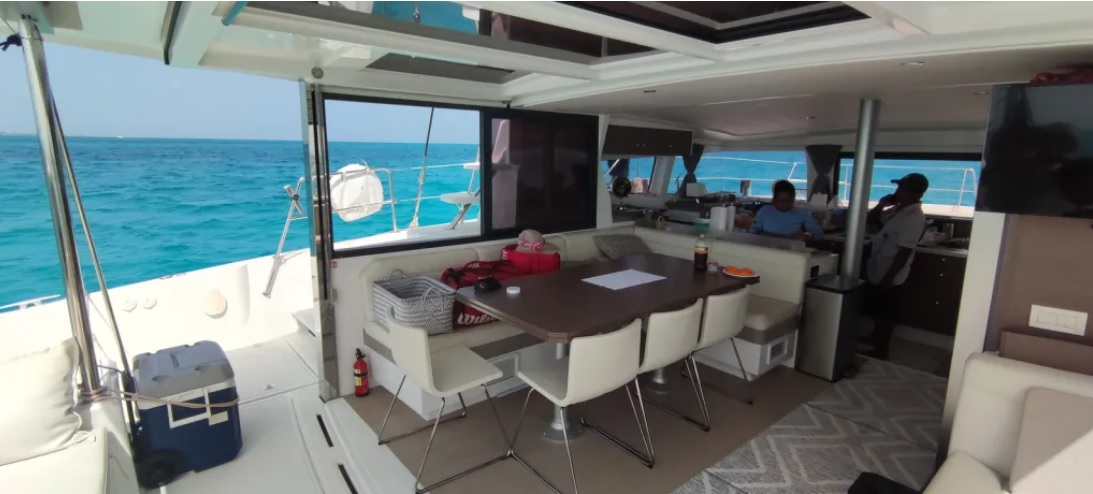 From Puerto Morelos to Cozumel, you make between 2 and 3 hours on fast speed. The same to Puerto Aventuras, which is about the same distance but by the coast. From Puerto Aventuras to Cozumel, or vice versa, it's about an hour and a half to 2 hours by yacht. The ride get slower, but not less fancy, by a luxurious catamaran.
And on the other side of Cancun is Holbox. From Cancun to Holbox it is 4 hours on high yacht speed. It can be many more hours if we go fishing or snorkeling between Isla Contoy and Holbox, as there are good stones for fishing there.
What to do in the boat overnight Riviera Maya's ports?
Overnight yacht rentals in Isla Mujeres feel better if you can rent a golf cart and visit the island. In the south of the island there is a kind of open-air museum of statues and metal masterpieces by different artists. There is also a stone that says "the first rays of the sun of Mexico touch here", and the view of the sea from there is impressive, so you may create excellent photos.
Playa Norte is the social beach of the island. It is where all yachts, boats and catamarans anchor to spend the day. In Isla Mujeres you sleep on board the yacht, or catamaran, in a bay near Playa Norte where the waves do not hit. Another option to sleep on board at is a marina.
Sleep on a yacht in Cozumel. Cozumel's liveaboard
In Cozumel, one nice trip is to rent a jeep and ride through the entire island. A Jeep because it is longer and to avoid sandy roads. As you probably know, Cozumel's reefs for diving are some of the bests in the world. You can rent equipment in Cozumel with a dive master and tell him to take you to The Devil's Throat, which is a long, dark cave that goes down 140 feet deep. It is such a life's experience.
As for beaches, the famous El Cielo beach is a must. Among others further afield such as Isla de la Pasión beach, in the north of the island. So, Cozumel liveaboard on a catamaran is a very good idea for those who look for adventure with luxury.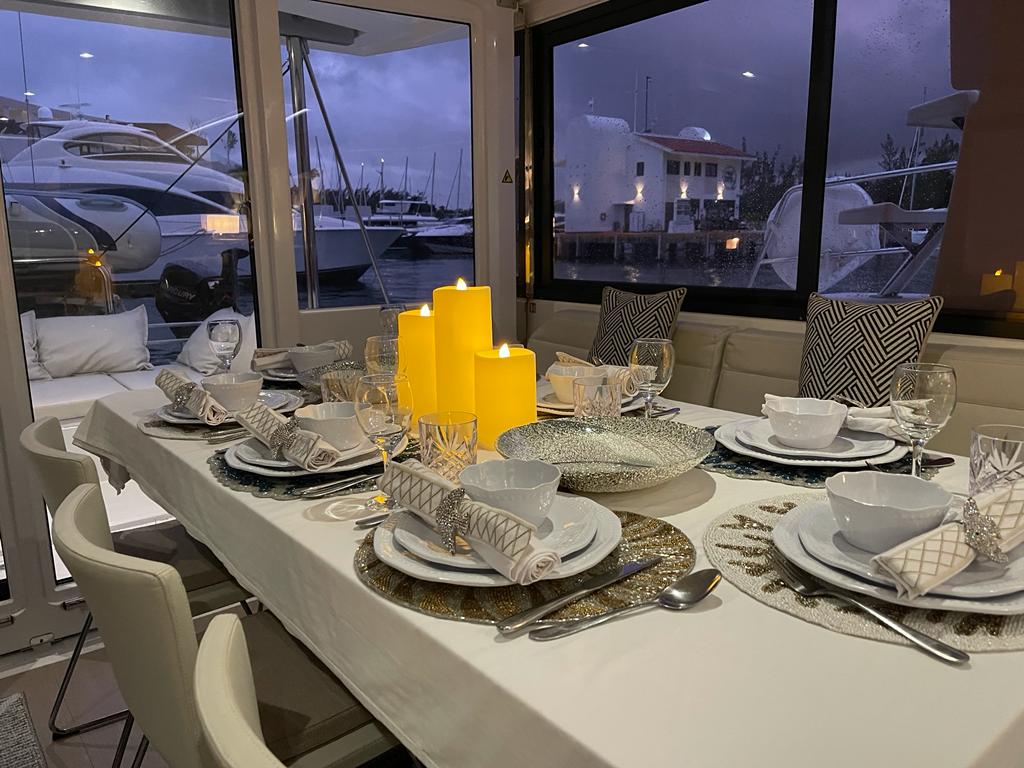 Yacht rental for overnight in Riviera Maya
In Riviera Maya, the ports to visit are Puerto Morelos, Punta Maroma and Puerto Aventuras. In Playa del Carmen there is no port to get off freely. Only some hotels and the ferry have. Punta or Playa Maroma is still a hotel, but there they do allow docking, only with prior permission and payment. However, there is not much to do on land there. Anyways, there are the reefs in front of Maroma, activity which is done from the boat.
Sleeping on board Puerto Morelos
The overnight stay on the boat in Puerto Morelos is at the main pier. The activity there is to walk and get to know the very good gastronomy the destination has. Try the two-story bars on the beach. Then you may eat on a restaurant called Punta Corcho, in the central park. Walking along its beaches is another activity, since it is full of tourists and junk food beach vendors. They sell lots of delicious stuff such as kibis, enchilada fruit, bread, eskites, empanadas, etc.
Between destination and destination, snorkeling can be done in Isla Mujeres, in Nizuc, in Maroma, throughout the Riviera Maya in general, Puerto Aventuras and, of course, in Cozumel.
Hire a catamaran to sleep aboard in Cancun and Riviera Maya
For sleeping 6 people on a boat, it requires a medium or large catamaran or yacht. It requires at least 3 cabins. The crew (sailor and captain) could be accommodated to sleep outside in the open air, but it is always better to sleep them inside, so a bigger boat is better. A sailboat is cheaper, and if they fit well, they can fit up to 6 people on it.
The sailor can prepare dishes that he knows (he is not a chef) such as ceviches, Aguachiles, eggs, fruit, cereal, etc. Simple things. Ice can be uploaded at home port. On the other side, there are some sailors in some catamarans, like the Bali 43, who cook as good as a chef. The best overnight by catamaran in Cancun is with us. Please contact us so we can send you pictures and pricing. Cancun's overnight by boat will never be the same after you try our luxurious and excellent service.
Bareboat Rentals in Cancun & Riviera Maya
You may know how to drive a big boat but here in this zone, crew must come with you on board. Captain could let you drive or sail, but you can't rent it without it. Crew must come. In Cancun or Riviera Maya, there is no this kind of bareboat where you can drive your own yacht, sailboat or catamaran on your own without the crew on board. Hopefully soon, but not for now on November 2022, when this was written.